Making Cranberry Jelly is quite simple and takes only a few ingredients, however there are a few things you should know to make a great tasting jelly.
I am currently looking for a recipe on how to make jelly, can you help me? I want to try out  jelly  making .  I was looking around for a few days and thought of you guys.  This is a Cranberry Jelly Recipe
Cranberries have long been a flavor staple in America's kitchens, and for good reason. They are a sweet, tart and a great source of dietary fiber.
Cranberry jelly is an indispensable attribute on most Thanksgiving and Christmas tables, and it's no wonder. This sweet and spicy sauce is the perfect accompaniment to turkey, ham and other classic holiday dishes. You only need 3 ingredients to make a cranberry jelly sauce, and even novice cooks can make a great cranberry jelly to serve for a homemade Thanksgiving or Christmas dinner. It's much tastier than store-bought cranberry jelly, so you'll definitely want to learn how to make homemade cranberry jelly for the holidays.
Tips for successful preparation of cranberry jelly
– Fresh cranberries are much tastier than frozen cranberries, but frozen cranberries will also do just fine when needed. You can also use cranberry juice. To do this, bring 4 cups of juice to a boil with 6 ½ cups of sugar, stirring constantly. Add 6 ounces of pectin and simmer for another minute. Remove from heat and pour into a pan, let cool to stiffen.
– If you are using fresh cranberries, be sure to wash them first.
– Make cranberry jelly without sugar by replacing the sugar with your favorite sweetener and adding 1 ¼ to 1 ½ teaspoons of unflavored gelatin to the mixture.
– There are many variations to try. Add orange essence or vanilla extract to the jelly, or replace the brown sugar with white sugar. You can also grate some ginger or add a little brandy for extra flavor.
How to make cranberry jelly
Making cranberry jelly is easier than you think. First, bring the water and cranberries to a boil over medium-high heat and simmer for 30 minutes. Keep stirring. Then sift the mixture well, add the sugar and cook over medium heat for up to 4 minutes. Finally, pour the cranberry sauce into a pan and refrigerate to infuse.
How to apply cranberry jelly
With a sharp knife, go along the edge of the pan to loosen the jelly. Place the bowl on which you are going to serve the jelly on top of the pan and turn the bowl and pan upside down while holding the bowl. Moisten a clean towel with warm water and place the towel on the mold. Shake the pan until you feel the jelly release from the pan, then remove the pan.
What to serve with cranberry jelly sauce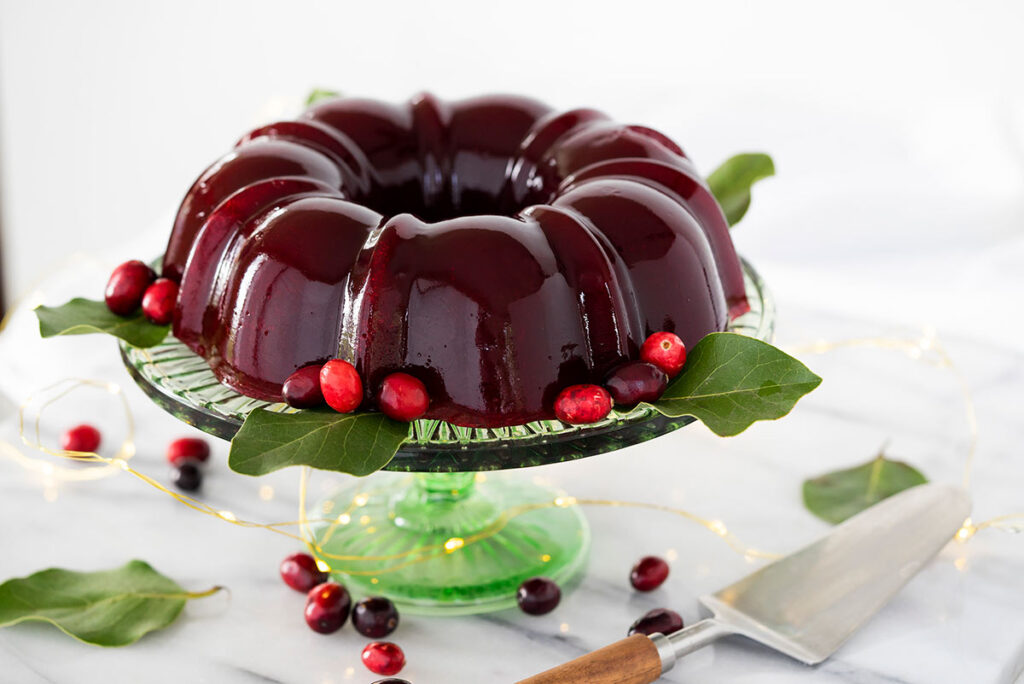 Led cranberry sauce is usually served as part of a traditional Thanksgiving or Christmas dinner. It is delicious with turkey, ham, roast pork, chicken and even beef. Spread it on a bun. Leftovers can be used for muffins, sweet breakfasts, sandwiches, meat sugars, and more!
Save and freeze leftover cranberry jelly
Cover the remaining cranberry jelly and store in the refrigerator for up to 4 days. Store the cranberry jelly sauce in an airtight container and enjoy for 2-3 months.
Instructions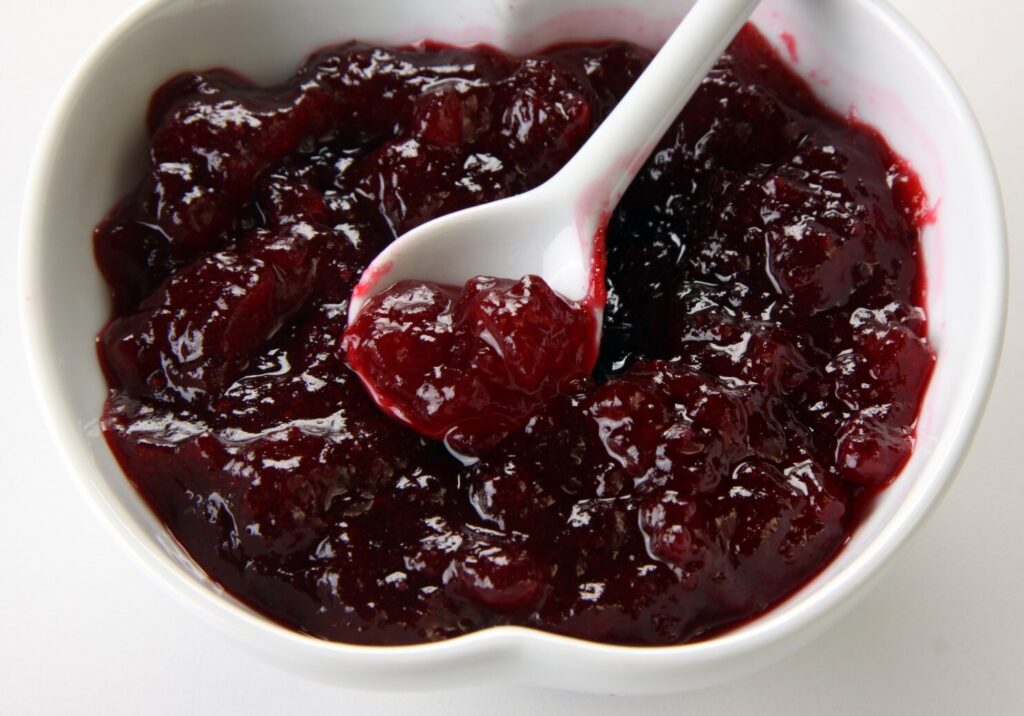 Boil the water and cranberries in a saucepan over medium-high heat. Bring the mixture to a boil and then simmer gently. Cook for 20 to 30 minutes, stirring frequently.
Strain the cranberry mixture through a sieve and squeeze the berries to release the juice.
Pour the sugar into the drained cranberry mixture and cook over medium-low heat for 2-4 minutes, or until the sugar has dissolved. Pour the cranberry sauce into a pan and place in the refrigerator to set.
Nuts
To thaw the cranberry jelly sauce, let it thaw overnight in the refrigerator.I am always on the lookout for new ways to incorporate fruit into my recipes, and this Cranberry Jelly is one that is so easy, but so much taste! I love making my own jelly, because it assures me that I know what is in it, and I can control the amount of sugar added to it..
Read more about cranberry jam recipe and let us know what you think.
Frequently Asked Questions
How do you make cranberry jelly from scratch?
I think any recipe is a good place to start for a cranberry jelly recipe, so to get you started here is a basic recipe for making cranberry jelly from scratch. You can easily add some fresh lemon juice for more tartness, or a little orange juice to make a winter fruit jelly. If you are serving the jelly on toast, you can also add a little bit of orange or lemon rind.
There is nothing better than homemade cranberry jelly; it's so simple to make and so delicious. Just mix the ingredients together and pour it into a jelly mold. But, you know, it's not just any jelly. It has to be sweet and tart at the same time, and it has to have the right consistency. It's not that hard, but it can be difficult to achieve the right balance.
What is the difference between cranberry sauce and cranberry jelly?
While cranberry sauce and cranberry jelly are two very different things, one has a much more popular (and delicious) reputation than the other. The difference is in the sauce part, which is made from crushed cranberries, sugar, and a little bit of water, while the jelly part is made with whole cranberries and sugar. For many of us, the holidays and all the festive foods that surround it are one of the best parts of the year. But, it can be difficult to find the right balance of healthy and indulgent foods, especially when it comes to the delcious holiday food…
Is canned cranberry jelly good for you?
There has been a lot of debate recently about whether cranberry juice, like the canned variety, is good for you. Much of this debate has been fueled by a new trend: juicing. With the popularity of juicing, some are quick to jump to the conclusion that cranberry juice and other juices are inherently healthier than other types of fruit and vegetables. However, we haven't seen any studies that show that juicing is THE way to go. When you consider the pros and cons of juicing, it's hard to come to any conclusion that's good for you.
Canned products are often convenient, but there are some cons that are worth noting. For example, canned products are preserved with sodium benzoate (or a derivative), which is commonly found in preservatives and produce preservatives. This chemical is also used to make benzene, a known carcinogen which is also used to make dyes and various other chemicals.