Scottsdale is a vibrant, exciting city with a selection of condos, including Downtown high-rises, serene lakefront properties, and stunning communities with garden terraces.
Condos are often a popular buy in both downtown and walking-friendly area throughout the Greater Phoenix area, but it is hard to beat the incredible architecture and amazing amenities offered in Scottsdale's condo communities.
Whether it's an investor-friendly community in a peaceful area of Scottsdale or a luxury penthouse near Scottsdale Fashion Square, there is something for every budget in the Scottsdale condo real estate market.
Here are the 5 most popular condo communities in this bustling Phoenix suburb.
1. Optima Camelview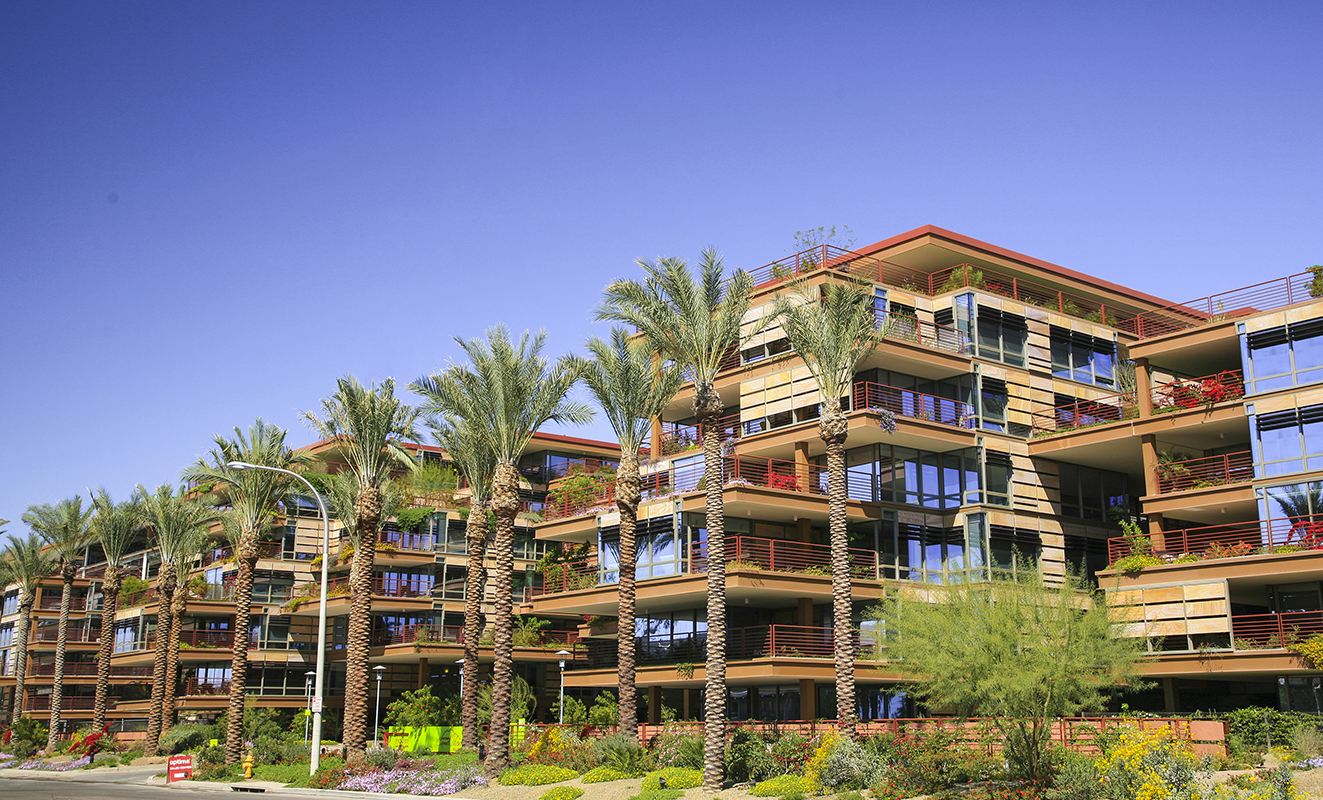 Optima Camelview is a stunning resort-style, mixed-use village inspired by Native American communities. The eleven buildings in the unique community feature 700 units. Buildings are linked by interconnected, terraced walkways and landscaped courtyards.
The colors, textures, and shades in the creation of Optima Camelview evoke the beautiful Arizona desert. The 13-acre site was constructed on a structural bay. The developers worked closely with Arizona State University to create a sustainable environment. Features of the planting system:
Urban wildlife haven
Reduces smog and dust levels
Promotion of evaporative cooling
Thermal insulation
The spacious condos with floor-to-ceiling, tinted glass windows offer panoramic views of the mountain landscape and contribute to energy efficiency. Optima invites residents to relax on private terraces or the garden rooftop. The community is within walking distance of Old Town Scottsdale. Amenities include:
Party Room with catering kitchen
Dog Park
Fitness Center and Workout Studio
Basketball and Racquetball courts
Indoor and outdoor pools and spas
Putting green
On-site restaurant
In addition to all of the great on-site amenities, Optima Camelview is also within walking distance of Scottsdale Fashion Square and Scottsdale's Entertainment District.
2. Scottsdale Shadows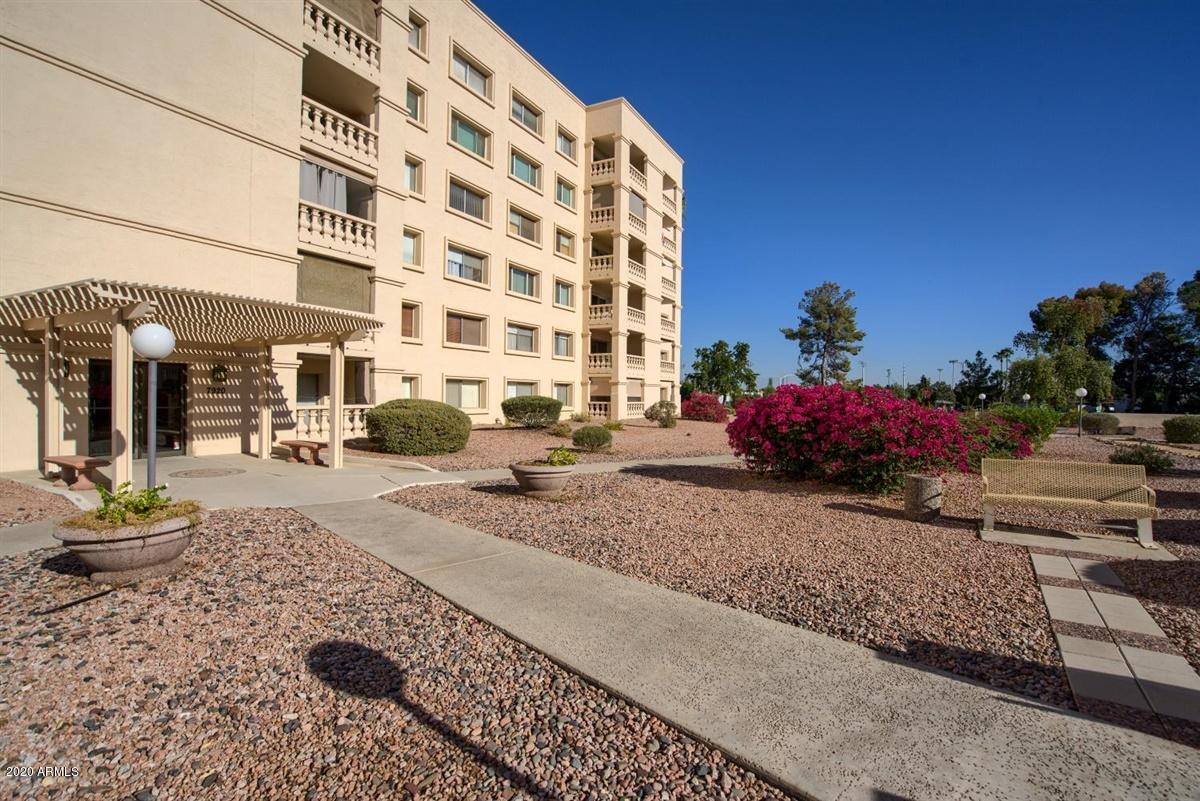 Scottsdale Shadows is an exclusive, gated community that features 13 buildings constructed between 1974 and 1984. The complex has 24-hour security. Scottsdale Shadows condos for sale consist of one to four bedrooms with spacious living areas and private patios.
Scottsdale Shadows amenities include:
Biking/walking path
Clubhouse/Recreation Room
Community Media Room
Community swimming pools, one enclosed for cold weather
Fitness Center
Laundry
Library
Private, nine-hole golf course
Spa
Tennis courts
Parking for residents is an underground parking area with elevator access. Guest parking is available on the road at each building's entrance. Scottsdale Shadows is close to Scottsdale Fashion Square, Scottsdale Waterfront, and Old Town Scottsdale, one of the unique shopping districts in the Southwest.
Old Town Scottdale's pedestrian walkways feature art galleries, retail shops, restaurants, and museums. After dark, it's the place to head to for Scottsdale's nightlife. Chaparral Park in Scottsdale is a favorite spot for family activities, including a lake for boating and fishing. The park features:
Green belt multi-use path
Lighted ball fields
Basketball and volleyball courts
Scottsdale's favorite dog park
Scottsdale Shadows condos for sale offer an opportunity to live in one of the city's most prestigious communities.
3. Edge at Greyhawk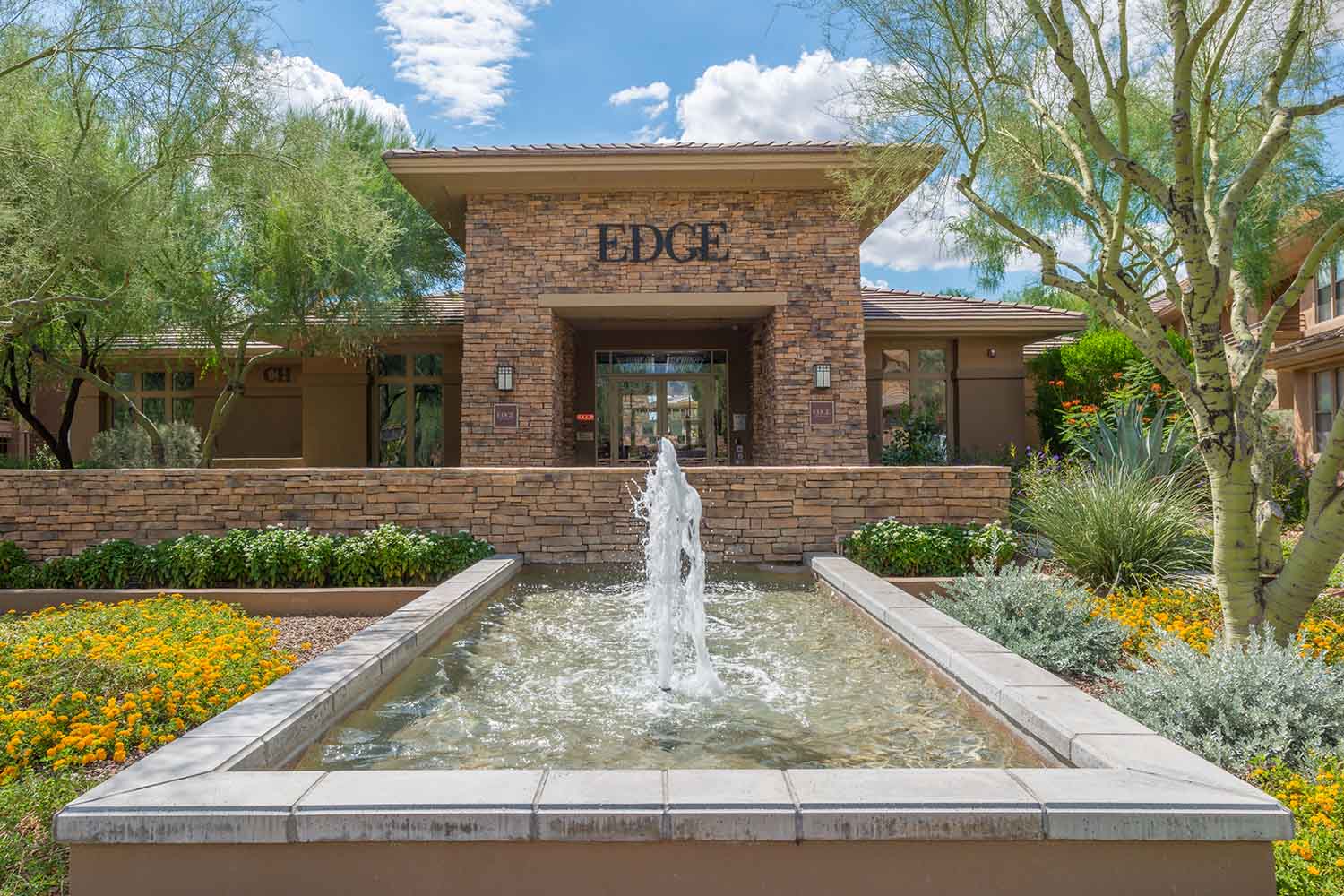 Edge at Greyhawk is a peaceful oasis in the midst of the spectacular Sonoran Desert. The stunning, gated cfbuommunity features the community clubhouse, The Great Room, where residents socialize. The concierge assists residents with making reservations and scheduling social events. The resident chef is happy to assist with special dinner and party menus.
Edge At Greyhawk features a private fitness center that opens at 5 am for early risers, an outdoor fireplace, and flat-screen TVs for residents to gather to cheer on their favorite teams. The surround sound movie theater can accommodate 16 people. Residents may watch their movies or choose from the theater's selection of titles. The theater is available for special events. The community features three luxurious heated swimming pools and grilling facilities. The community is in proximity to dining and shopping in Old Town Scottsdale.
Edge At Greyhawk's amenities include:
Tech Centers
Gate community
On-site chef
Private patios/balconies
Walking distance to dining, shopping, entertainment
Edge At Greyhawk is near five parks including
Arizona Horse Lover's Park
Cashman Park
Dynamite Park
McDowell Sonoran Preserve
Reach 11 Recreation Area
4. Scottsdale Bay Club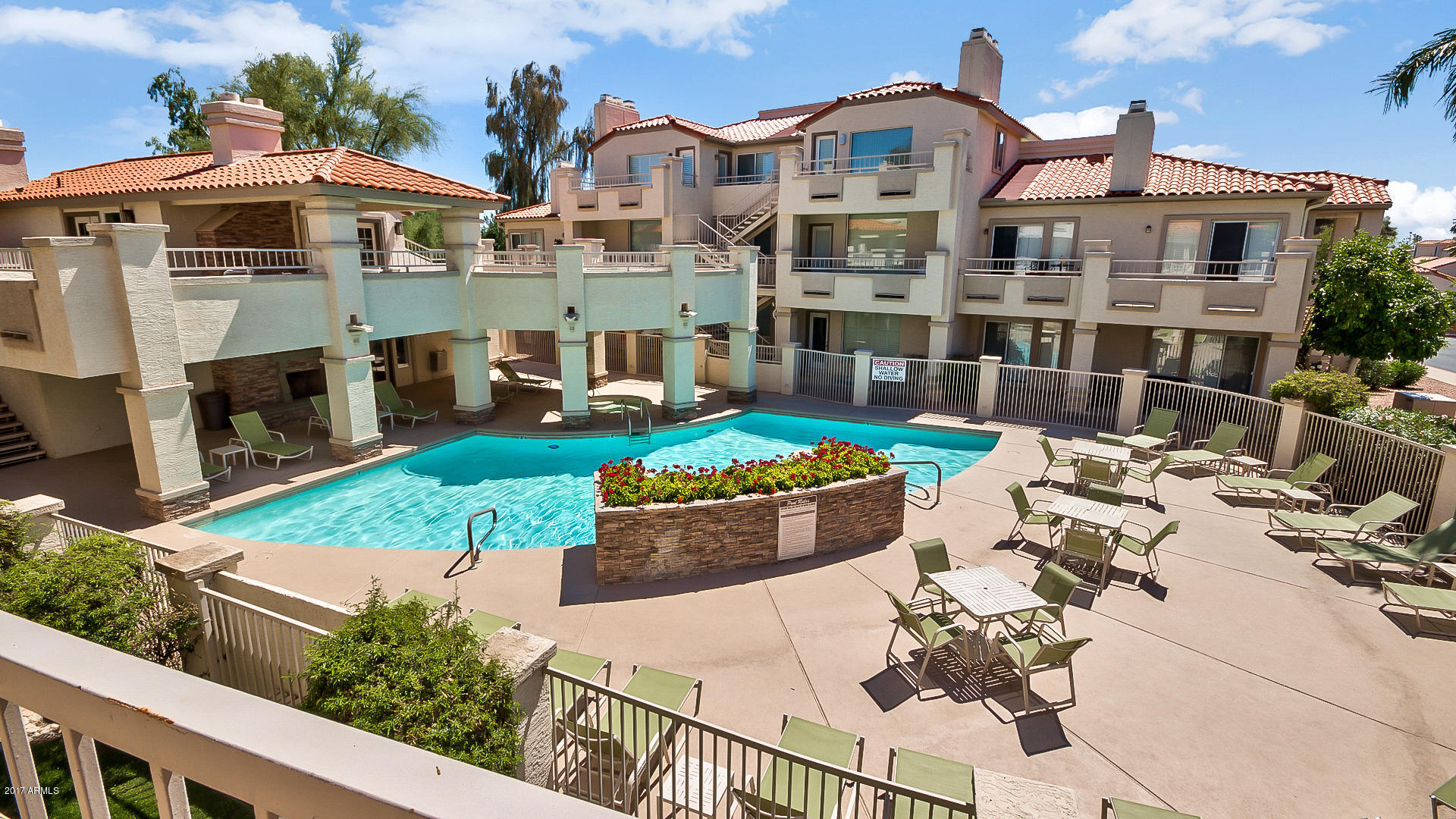 Scottsdale Bay Club is a lakefront, gated community on the shores of Lake Serena. Approximately half of the condos in this community have full views of the lake and the serene, mountain landscape. The community features one to three-bedroom condos and 24-hour security. Scottsdale Bay Club built in 1993 features these amenities:
Two swimming pools
Spa with hot tub
Clubhouse with a workout room
One car garages
Private balconies/patios
Nearby Amenities
The Mercado at Scottsdale Ranch offers a variety of services for residents including:
Barbers and salons
Restaurants
Bistro and wine bar
Pre-school
Fitness and martial arts centers
Attractions Near Scottsdale Bay Club
Scottsdale Ranch Park and Tennis Center feature fun, outdoor activities for residents. The park features:
Basketball courts
Baseball fields
Squash, Racquetball, and Volleyball courts
Picnic ramadas
Playground
Desert Garden Park at Scottsdale Ranch Park enhances the understanding of the spectacular Sonoran Desert. Withing the desert park ate three zones:
Butterfly Garden
Hummingbird Nest
Saguaro and Bat Sanctuary for the High Desert
5. Scottsdale Waterfront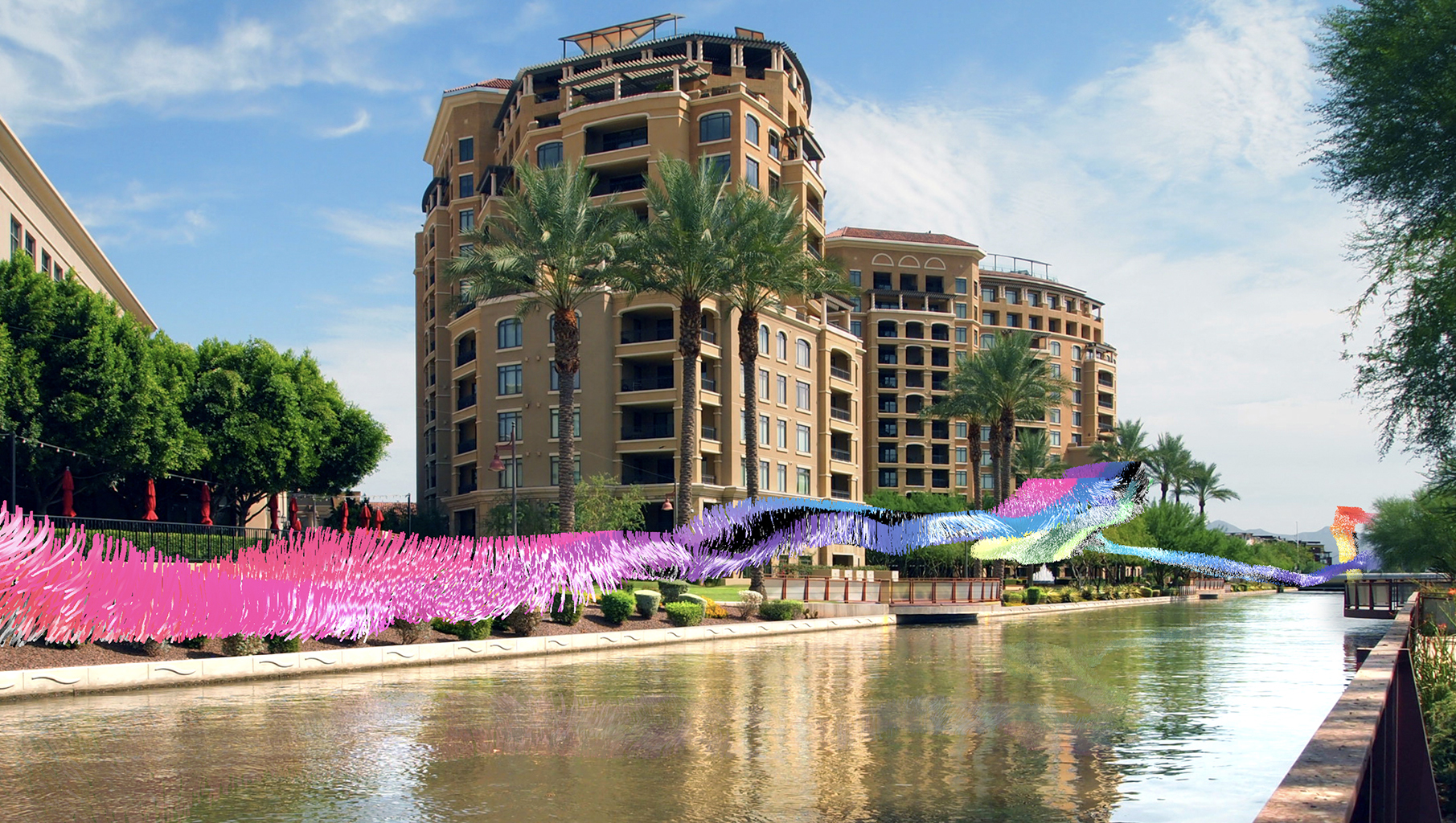 Scottsdale Waterfront is a stylish community in Downtown Scottsdale. Owners at the high-rise complex enjoy concierge and valet parking services, and a 24-hour lobby host. One of the best, panoramic views of the city is from the rooftop pool and spa that's a favorite, residential gathering place. Amenities at Scottsdale Waterfront include:
Gated access with security
Valet parking
Concierge
Private balconies/patios
Exercise room
Spa/hot tub
Swimming pool
Scottsdale's Downtown is a vibrant area of classic architecture, offices, and high-rise condos, and no longer just for winter tourists. Scottsdale Waterfront is the perfect location for the owner that loves non-stop activity. Downtown Scottsdale features:
Art galleries
High-end retail shops
Restaurants
Night clubs
Scottsdale Waterfront is close to all the amenities Old Town Scottsdale has to offer. The area is a blend of old Southwestern influences and modern sophistication. Pedestrian-friendly Scottsdale Fashion Square is the largest retail shopping center in the Southwest. Scottsdale hosts fun events throughout the year, including Western Week and the Scottsdale Art Walk.