Bridesmaid fashion has evolved over the years, and one of the most popular and versatile choices for modern brides is the skirt and lace top ensemble. These two-piece dresses have become increasingly sought after for their stunning aesthetic and ability to flatter various body types. The combination of a skirt and lace top offers a unique and stylish look that is both fashionable and timeless.
The advantages of bridesmaid separates are countless, some most important ones below: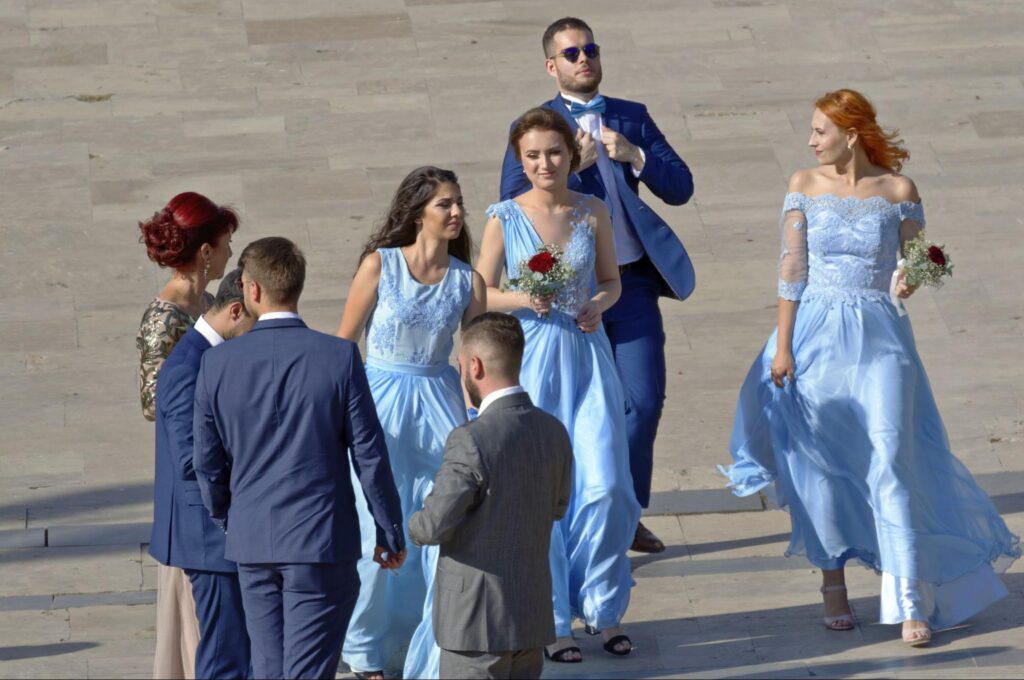 1. Easy for sizing, especially for girls with disproportionate figures
Skirt and top bridesmaid dresses are particularly appealing for bridesmaids with less proportionate figures, such as pear or apple shapes. The separate top and skirt components allow for individual top and bottom sizes.
2. Versatility
Another advantage of the skirt and top-dresses is their versatility beyond the wedding day. Unlike traditional bridesmaid gowns that may rarely be worn again, these separates can be mixed and matched with other wardrobe pieces, providing bridesmaids with stylish options for future events. The lace top can be paired with jeans or a skirt, while the skirt can be paired with different tops, allowing bridesmaids to create multiple outfits and extend the lifespan of their dresses.
3. Trending up in recent years
Skirts and top bridesmaid attire have been trending up in recent years. Their relaxed yet stunning look perfectly complements contemporary wedding aesthetics. The combination of flowing skirts and delicate lace tops creates a romantic and relaxed atmosphere that is highly sought after by brides and bridesmaids alike.
4. Mix and match convenience
Knowing the advantages of 2 piece bridesmaid dresses, you must know where to find an ideal style of such bridesmaid separates.
Bridal boutiques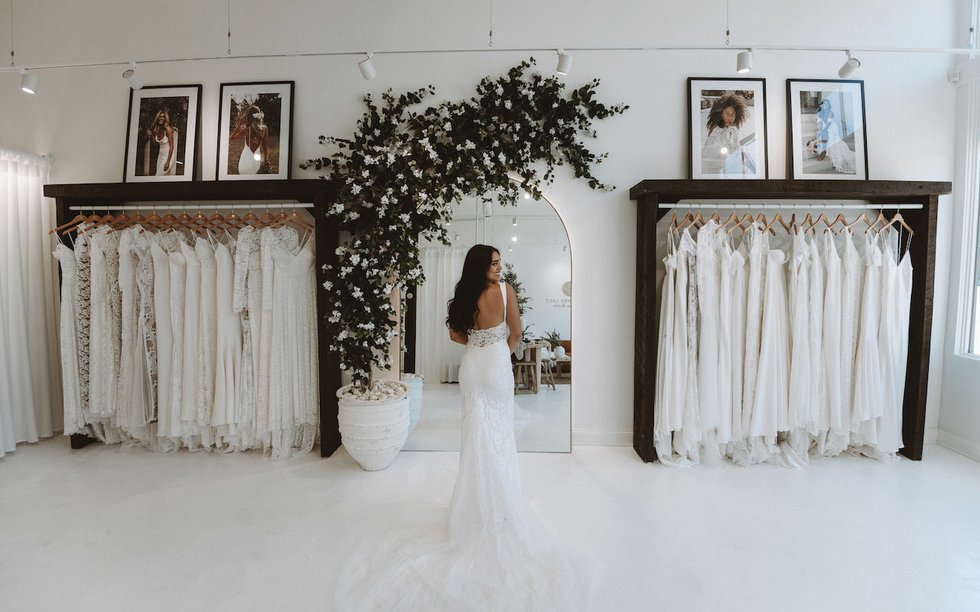 Bridal boutiques are an excellent destination to go to. They are professional places for bridesmaid attire. Usually, they have various styles and colors. These boutiques specialize in bridal and bridesmaid attire, so they understand the importance of offering a diverse selection to cater to different preferences and body types. Additionally, bridal boutiques often provide matching accessories such as belts, sashes, or statement jewelry, allowing you to create a cohesive and polished look for your bridal party. Furthermore, many bridal boutiques offer alteration services, ensuring that the bridesmaid separates you choose fit perfectly.
Online Retailers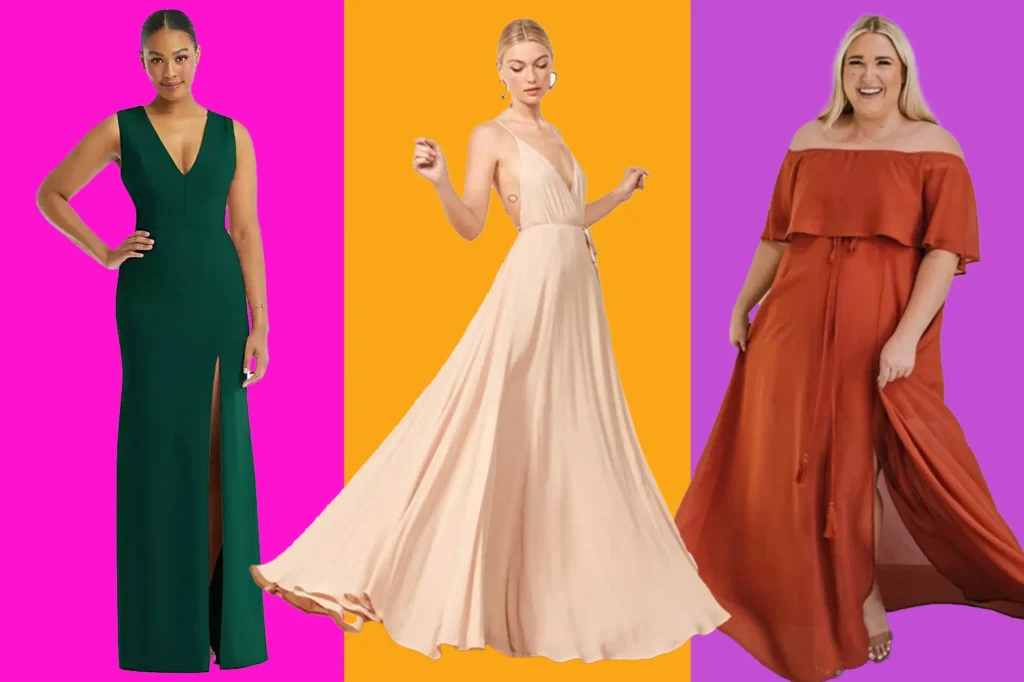 Online retailers have become popular among bridesmaids when searching for stunning skirts and top bridesmaid dresses. Here are a few reputable online retailers known for their selection of skirt and lace top bridesmaid dresses:
eDresstore.com : eDresstore is a DTC brand of bridesmaid dresses that offers an extensive collection of bridesmaid dresses, including beautiful skirt and top combinations. eDresstore is known for its high-quality dresses, affordable prices, and excellent customer service. The bridesmaid skirts and tops in chiffon have hundreds of color options and can be made in various lengths. You can find all popular colors for any season, whether trending rust color or dusty sage green bridesmaid dresses. As for the length, from above the knee, tea length, to floor length, bridesmaid lace separates have a dozen color options. You can combine them for the best look. And you can find both classic top and skirt styles and modest bridesmaid dresses in two pieces.
David's Bridal: David's Bridal is an old and reputable brand. They have a wide range of styles despite having fewer bridesmaid separates. The affordable prices, with dozens of colors, are easy to match for your wedding. David's Bridal is known for its on-trend designs, reliable shipping, and convenient return policies.
BHLDN: DHLDN has a simple and very well cut that makes the dress so flattering. Although not many, their lace top and skirt dress styles will make you fall in love at first sight. It's essential to research and read reviews to find a reputable retailer that meets your specific style, budget, and customer satisfaction requirements.
These online retailers allow bridesmaids to explore a vast selection of skirt and lace top bridesmaid dresses, often offering customization options to ensure the perfect fit. However, it's crucial to order well in advance, carefully review the size charts, and consider any potential alterations that may be required.
Before you start shopping for skirt and lace top bridesmaid dresses, it's crucial to consider several factors, including your budget, style preferences, and the overall theme of the wedding. By considering local boutiques and online retailers, bridesmaids can widen their options and uncover many stunning dresses that will enhance the elegance and cohesiveness of the bridal party. Begin your search today, explore different possibilities, and discover the skirt and lace top ensembles that will make your bridal party shine on a particular day.