Between fondant, gumpaste, and pastillage, not to mention marzipan, Mexican paste and chocolate clay, it's easy to get confused about sugar paste terminology. Throw in some British terms–like flower paste and sugarpaste–and it's anyone's guess. Below is a (hopefully) comprehensive list of the different sugar pastes used for cake design. For each, I've included a brief description, alternative names, suggestions for use, and my opinion as to whether it's best to make it yourself or buy it. Note that these are the American terms. British, Australian, or other uses may be different. Know of any I missed? Please email and let me know.
Chocolate Clay
A pliable chocolate paste made from just two ingredients, chocolate and corn syrup, it has the texture of a tootsie roll or marzipan and is very easy to work with. Chocolate clay can be made with bittersweet, semi-sweet, milk or white chocolate. Overhandling it will make the oils separate, causing the clay to become crumbly. Extreme heat can cause melting, so it is not ideal for certain decorations.
Alternate terms: candy clay, chocolate leather, chocolate modeling clay, chocolate modeling paste, chocolate plastic, chocolate plastique
Used for: Most often used for figurines and to cover shapes made from rice cereal treats. Also used for ropes, braids, ribbons, ruffles, flowers, leaves, and sculpted cakes.
Buy or make: Chocolate clay is so easy to make that for small batches it probably best to just make it yourself. For large batches, it may be easier (albeit more costly–$50 for 5.5 pounds) to buy. I've never used Cacoa Barry, but it is the most widely available commercially made chocolate clay.
Recipe:
7 ounces bittersweet chocolate, chopped + 1/4 cup light corn syrup or
7 ounces semi-sweet chocolate, chopped + 3 1/2 – 4 tablespoons light corn syrup or
7 ounces white chocolate, chopped + 1 1/2 – 2 tablespoons light corn syrup or
7 ounces milk chocolate + 2 1/2 – 3 tablespoons light corn syrup
Melt chocolate in a double boiler or metal bowl set over a pan of simmering water. Stir until melted and smooth. Remove from heat and stir until cooled a bit. Stir in corn syrup. (The chocolate will stiffen almost immediately.) Continue stirring until completely combined. Transfer to a sturdy plastic freezer bag and refrigerate until firm (about two hours). When dough is firm, remove from the refrigerator, and knead until soft enough to work with. If it is too hard, cut off small pieces, and knead until pliable. Well wrapped it will keep for months. If it gets hard to work with knead in a little more corn syrup until pliable
Note: To prevent the corn syrup from sticking to the measuring cup or spoons, spray or grease with vegetable oil before measuring. I never use candy melts in any baking as they are not real chocolate.
Fondant
An edible sugar dough that is rolled out and used to cover cakes. Fondant dates to the Renaissance and was originally used in Britain to cover fruitcakes and seal in the freshness for shipping to the new world. Gelatin and glycerin keep the fondant smooth and pliable. Fondant dries firm, but not nearly as hard as gumpaste or pastillage, and therefore serves a different purpose.
Alternate terms: fondant icing, ready-rolled fondant (British), soft fondant (British), rolled fondant, sugarpaste (British)
Used for: covering cakes, appliques, braids. Can be used for other decor, such as ribbons or bows, but needs more drying time than gumpaste or pastillage, so it is not ideal for this purpose.
Buy or make: Definitely buy. I like Satin Ice. Here's why.
Gumpaste
Gumpaste is similar to fondant, but the addition of gum tragacanth (a plant-based gum; more about gums in a future post) gives the dough added flexibility, allowing it to be rolled much thinner than fondant for realistic-looking flowers. Gumpaste dries hard, unlike fondant, and is therefore NEVER used to cover a cake. It is superior to fondant for decorations that need to hold their shape, such as the handle on this purse cake on the cover of Confetti Cakes: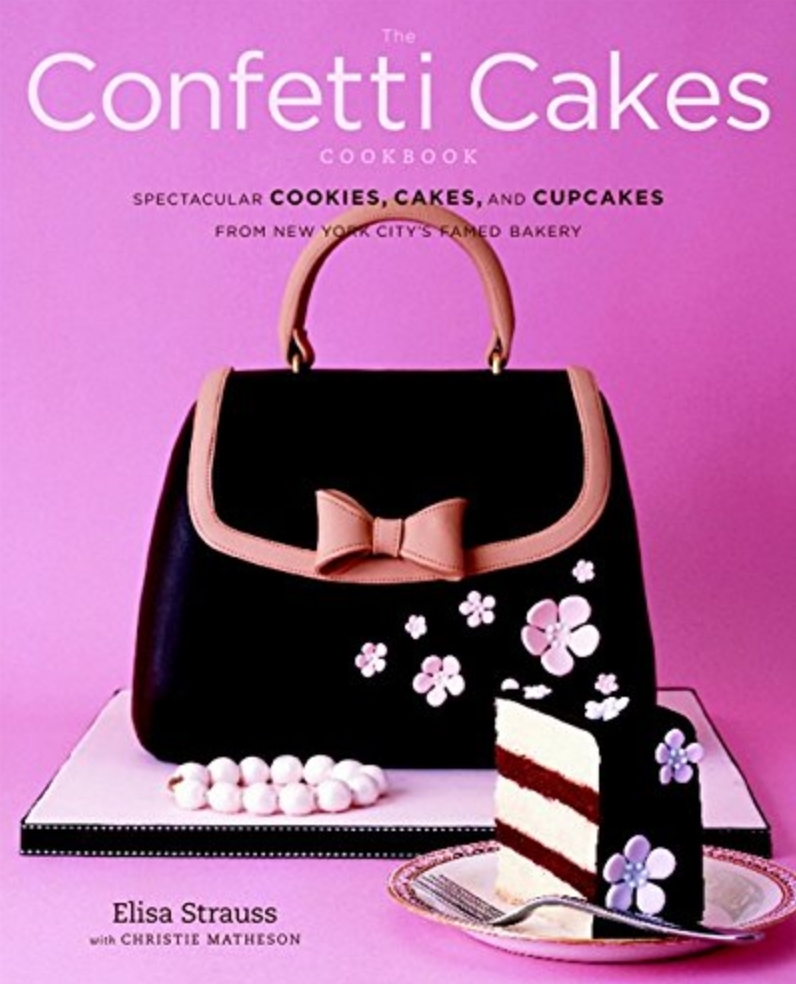 Homemade gumpaste flowers can take up to two weeks to dry, and need to be made well in advance of the cake decorating event. Gumpaste flowers are best stored in airtight containers in a cool, dark place. Heat, humidity and refrigeration can all soften flowers, even after they've set. Placing flowers on buttercream frosting, which contains fat, can also soften them (source: http://www.ehow.com).
Alternate terms: Flower paste
Used for: Flowers. Also used for decorations that need to dry bone-hard, such as three-dimensional decor and plaques. The plaque on top of Mia's cake was made of gumpaste.
Buy or make: Make. I never knew how easy it was to make gumpaste until I was introduced to Nicholas Lodge's recipe. Two things to know are: (1) You must follow this recipe exactly for best results and (2) Use ONLY the CAI–Confectionary Arts International–tylose. I have found that other tylose yields different results.
Recipe:
4 Large Egg Whites
2 lbs 10x powdered sugar
12 Level teaspoons Tylose
4 teaspoons Crisco
1. Place the egg whites in a Kitchen Aid mixer bowl fitted with the flat paddle.
2. Turn the mixer on high speed for 10 seconds to break up the egg whites.
3. Reserve 1 cup of the powdered sugar and set aside.
4. Turn the mixer to the lowest speed and slowly add the remaining sugar. This will make a soft consistency royal icing.
5. Turn up the speed to setting 3 or 4 for about 2 minutes. During this time measure off the tylose into a small container.
6. Make sure the mixture is at the soft peak stage. It should look shiny, like meringue and the peaks fall over.
7. Turn the mixer to the slow setting and sprinkle the tylose in over a five second time period. Next, turn the speed up to the high setting for a few seconds to thicken the mixture.
8. Scrape mixture out of the bowl onto a work surface that has been sprinkled with some of the reserved 1 cup of powdered sugar. Place the shortening on your hands and knead the paste, adding enough of the reserved powdered sugar to form a soft but not sticky dough. You can check by pinching with your fingers and they should come away clean. Place the finished paste in a zip-top bag, then place the bagged paste in a second bag and seal well.
9. Place in the refrigerator for 24 hours if possible before using to mature the paste.
10. Before use, remove from refrigerator and allow the paste to come to room temperature. Take a small amount of shortening on the end of your finger and knead this into the paste. If you are coloring the paste, add the paste color at this stage.
11. Always store the paste in the zip-top bags and return to the refrigerator when you are not using the paste. Will keep under refrigeration for approximately 6 months. You can keep the paste longer by freezing. Be sure to use zip-top freezer bags. If you will be freezing a batch of paste, allow it to mature for 24 hours in the refrigerator first before placing into the freezer.
Yield: About 2 pounds
Mexican Paste
Mexican Paste is ideal for cutting out shapes and modelling. It does not contain any glucose, glycerin,or gelatin, and therefore does not stretch or lose its shape when transferring the cut out shapes to the drying board. Similar to gumpaste. Not recommended for the easily frustrated.
Alternate terms: None that I know of.
Used for: Letters, patchwork cutters, plaques. Patchwork cutters are available here. Here's (a rather gigantic view of) my favorite: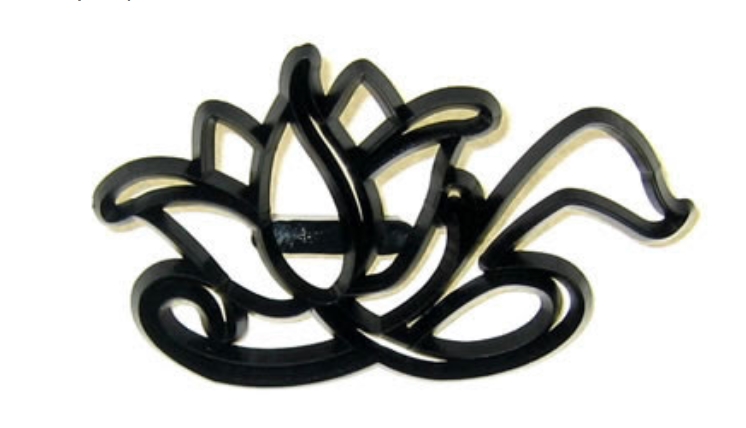 Buy or make: According to http://www.cakefrills.co.uk/, Mexican paste is "very easy to make as it is basically [fondant] with Gum Tragacanth. Patchwork powder is commercially available, but it is so easy and much cheaper to make your own."
Recipe: Note: I have not tested this recipe.
8 oz (or more) confectioner's sugar
3 teaspoons gum tragacanth (DO NOT USE A SUBSTITUTE)
cold water
In a small bowl, mix confectioner's sugar and gum tragacanth. Add 6 teaspoons of cold water.
Stir until mixture becomes crumbly but damp enough to bind together. Add a little more water if too dry, or confectioner's sugar if too wet. Turn out onto a worktop and knead until pliable. Place into a plastic bag and leave at room temperature for 12 hours until firm. (The paste will feel very firm.) Break a small piece away and knead between your palms. Continue kneading between your fingers and repeat until all the paste is softened. Cut the paste into small pieces after it has been softened. Wrap each piece in plastic wrap and place all of the pieces into a plastic bag and place in freezer. Remove only the quantity required for defrosting. (Smaller pieces will defrost quicker.) Once defrosted, remove plastic wrap and store at room temperature in a plastic bag only. Never store the paste in a fridge. Knead the paste every third day to keep it pliable and to prevent the corners from drying out.Tips for using Mexican paste with Patchwork Cutters:
Grease the rolling board with vegetable fat. Roll out the Mexican paste, but DO NOT LIFT THE PASTE OR TURN THE PASTE OVER WHEN ROLLING. The paste must stick to the board.
Grease the cutter well. Press firmly onto the paste.
Remove the cutter by flicking the edge. Always remove the cutter before peeling away the excess paste.
The paste should be cut cleanly. If the edges are ragged the paste is probably too thick.
The smaller the cutter the thinner the paste should be and the more vegetable fat should be used and spread over the smallest parts of the cutter.
Hot soapy water and a small brush will remove the fat once the cutter has been used.
Pastillage
Pastillage is rolled fondant without any of the softening ingredients (glycerine, corn syrup or shortening). It is used mainly for three-dimensional shapes because it dries bone-hard and crusts more quickly than fondant (source: Rose Levy Berenbaum, 1988.) It can also be colored or painted. You have to work very quickly with pastillage because it dries very quickly (source: http://www.baking911.com/).
Below, a pastillage sculpture.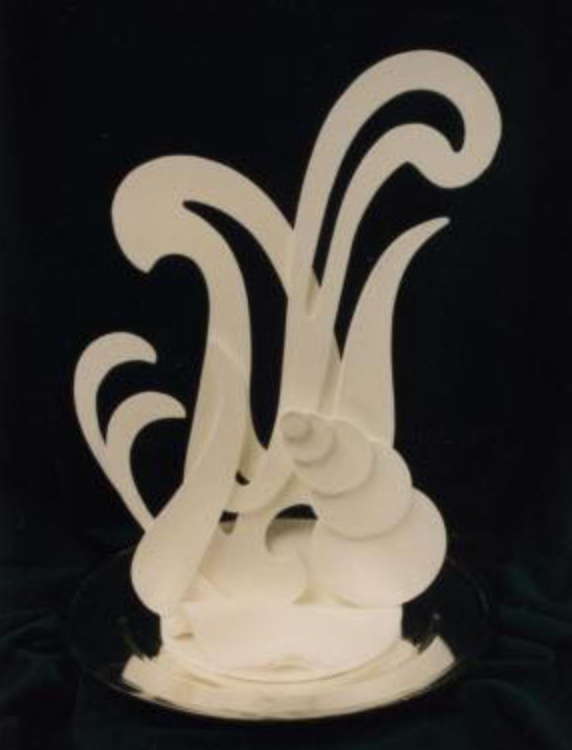 Depending on the mix, pastillage can be formed and sanded to remove any rough spots after it has completely dried.
Used for: sculptures, showpieces, three-dimensional shapes, ribbons and bows
Buy or make: Pastillage is relatively easy to make. I haven't experimented much with recipes other than Rose Levy Berenbaum's recipe (below) from her must-have book, The Cake Bible. Different recipes will obviously yield different results.
Recipe:
1 tablespoon gelatin scant
1/3 cup water
4 cups (lightly spooned into cup) powdered sugar
1/2 cup (lightly spooned into cup) cornstarch
optional: pinch cream of tarter
Sprinkle gelatin over water in a 2-cup heatproof glass measure and let stand for 5 minutes. Set into a small pan of simmering water and stir until gelatin is dissolved. (This can be done in a microwave on high for a few seconds).
Combine the sugar, cornstarch and optional cream of tartar in a large bowl and make a well in the center. Add the gelatin mixture and stir with a lightly greased wooden spoon until blended. Mix lightly with greased hand and knead vigorously in the bowl until most of the sugar is incorporated. Turn onto a smooth, lightly greased surface (such as Formica or marble) and knead until smooth and satiny. If the Pastillage seems dry, add several drops of water and knead well. If it seems too sticky, knead in more powdered sugar. The Pastillage will resemble a smooth, well-shaped stone. When dropped, it should not spread.
Rolled Pastillage may be used at once but seems to work more easily when allowed to rest for several hours. It is important to keep Pastillage covered to prevent it from drying. Wrap tightly in plastic wrap and place in an airtight container. It will firm slightly upon standing.
When ready to roll out, spray the work surface and rolling pin with nonstick vegetable spray.
Comment on "On Fondant, Gumpaste, Pastillage, and Mexican Paste"
Mru
Hi
Can we replace gumpaste Wid pastillage for all n everything dat is made Wid gumpaste.thanks 🙂

Erica OBrien

No. Pastillage does not stretch the way gumpaste does, so you couldn't, for example, make sugar flowers with it.
Natalie
I was just wondering…… I am making an army soldier minion cake and need to make him a helmet. Would gum paste or pastillage work better? It needs to be quite thick – maybe 1 inch thickness and this will go over a covering of fondant so the helmet can be removed. Also, how brittle is the pastillage, especially at that sort of thickness? Thank you!
Reply

Erica OBrien

I would use modeling chocolate for something like that. It is easiest to work with in the application you're describing.
Faye
I would like to make leaves to place on a buttercream frosted cake. Which medium would be best to use?
Reply

Erica OBrien

Gumpaste.
Luna
Thanks a lot I got confused by all the different terms
Jennifer
Im very new in creating cakes and working with any fondant, gum paste, and pastillage.
What type of paste would you recommend for a newbie to use? Planning on making a shopping bag cake. TIA.

Erica OBrien

It depends what you're using it for. You wouldn't use gumpaste to cover a cake (you would only use fondant) but you wouldn't use fondant to make flowers. All three mediums have their own uses.
Joanne
Hi there thank you for sharing all this recepies . I'm going to make a cake to look like a girl singing with a microphone on her hand it with be quite tall cake and the hand will be reised to hold the microphone I tryed gum paste for the hands but it does not hold its shape it god quite flat should i use the pastillage instead ?? Thank you in advance

Erica OBrien

Yes, I would use pastillage if you want something that dries. You can also try modeling chocolate, a medium I don't have much experience with but is supposed to be great for modeling.
krishni chettiar
Hi there. Can I make stiletto shoes using pastilage? I live in Durban, South Africa and we have very humid weather. Please help. Thanks

Erica OBrien

Yes!
Jane
We make elaborate (though amateur) shape cakes for our grandsons' birthdays. We learn techniques as we go, so have run into some glitches. We are committed to authentic butter cream frosting to cover the cakes. For structure portions such as fins on a shark, we tried fondant and dried rice krispie treat forms. we run into problems when dried fondant is placed into the butter cream as it slowly softens and loses its shape. Will pastillage hold its shape as wings on a jet when placed in butter cream icing?

Erica OBrien

Good for your for daring to experiment! Pastillage will DEINITELY hold its shape better. One question: Are you refrigerating your cakes after assembling? If so, the fondant is probably absorbing the moisture from your fridge as well as from your buttercream. A double whammy! I would avoid (if possible) adding any dried sugar embellishments until the end. If you must refrigerate, be sure to box your cake in cardboard so the cardboard absorbs the moisture in your fridge.
Janet Opper
This is about pastillage. How do you get it back after it has been frozen?

Erica OBrien

Bring to room temp and knead.
Marie maxwell
Can you use food colouring to colour pastillage need to make red and black .

Erica OBrien

Yes!
Aaki
Your pastillage recipe is gr8 …. Just tried it out. But have one question … How can I make a vegan pastillage?

Erica OBrien

I don't know of any recipes, but I would recommend experimenting. Let us know your results! Good luck!
Antwan
Just use agar agar instead of gelatin
Kate Ramos
Thank you so much for spelling out all these terms. I am trying to "Americanize" a British cake decorating book and it is so confusing. This is very helpful!
Ipshita Chakladar
I have to make a gazebo kind of structure for a wedding cake. Will pastillage hold up?

Thank you

Erica OBrien
Yes! Just make sure to create it plenty of time in advance, and if at all possible, make extra in case of breakage. Good luck!
Benita
I made gum paste for the first time came out great but on my second and third attempt is came out funny and smooth to use, used the same recepie, can you please send me a recipie in grams?
If I would like to make shoes, I do so from gum paste, can I use Mexican paste or gum paste,
If I make Mexican paste but only have cmc is this ok.?
Thanks in advance
Agatha
Nice tutorial. Please what if i don't have constant light to freeze the gum paste. How can i preserve it. Also do you have a recipe for satin ice fondant.
Reply

Erica OBrien

Hi,
I'm not quite sure what you mean by "constant light to freeze". Can you please explain? Thanks.
~Erica
Leah
Can you freeze pastillage? I need to make a screen/backdrop for a cake and thought this would be the right product to use as it dries strong and hard? How would you suggest securing this to a board once the pieces have dried?
Reply

Erica OBrien

Hi Leah,
According to Rose Levy Berenbaum, pastillage can be frozen indefinitely. I would use royal icing to secure it, or create a base out of pastillage with a slit in it for the screen so that the screen stands up in the base and use royal icing. Hope that helps/makes sense!