One of the beautiful options that property owners consider when considering installing new floors on their property is wood-stamped concrete. It is a decorative floor that gives you more design options and the durability of traditional concrete floors.
If you are looking to install wood-stamped concrete in your home, some of the things you may want to find out include what options are available to you and how much it would cost to have wood-stamped concrete on your property. In this article, we address the cost of wood-stamped concrete installation, letting you know the cost factors to consider.
Let's begin by letting you know what exactly is wood-stamped concrete. This information is presented by our stamped concrete contractors, visit us at chicagostampedconcretepros.com.
What is wood-stamped concrete?
Concrete is known to be very strong and has a long lifespan, but it doesn't do much in decorating your space. The decorative feature of wood-stamped concrete is what makes it better than traditional concrete. To make wood-stamped concrete, the traditional concrete is stained and stamped just before it sets, which gives it the appearance and feel of wood planks, however, with less stress and expense. While this process has to be done before the concrete cures, existing concrete can also be revitalized through the application of a thin concrete polymer that has been modified, after which you can stain and stamp the existing concrete.
Wood stamped concrete gives the realistic look of wood. When done by an experienced professional, it gives the illusion of wood planks, especially when the stains imitate the colors of real wood. Another good thing with wood-stamped concrete is that it is as strong as traditional concrete, and with this, the permanent color and texture that beautifies your space for many years.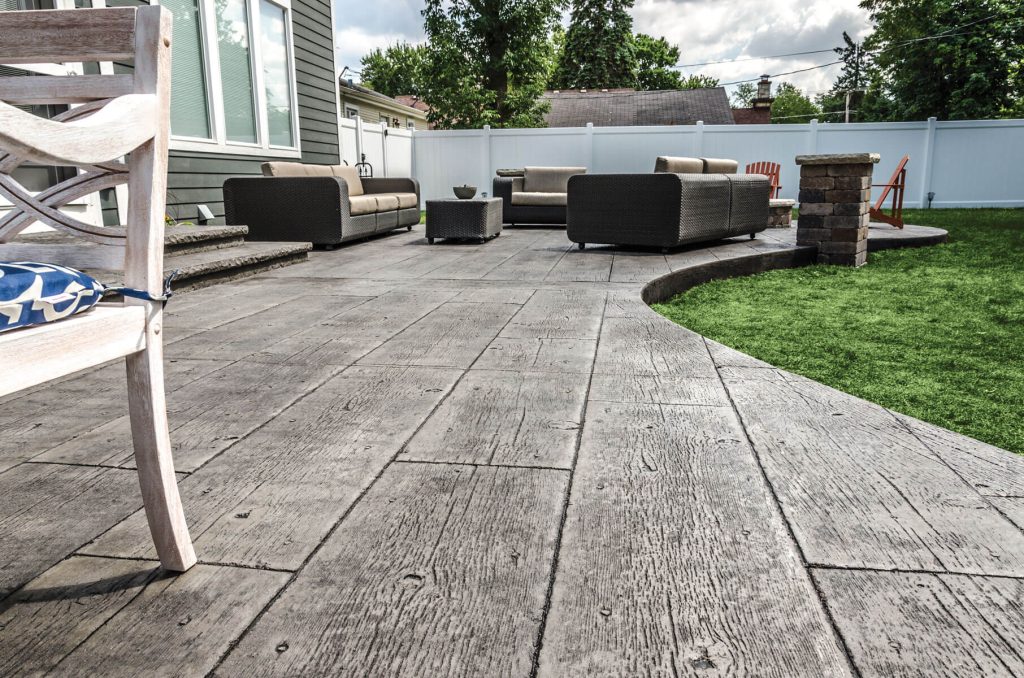 What determines the cost of wood-stamped concrete?
Getting the exact cost of installing a wood-stamped concrete is not a straightforward process, as there are many factors to put into consideration. You might be able to control a few of these cost determinants such as the complexity of the project. However, you may not be able to do much about the floor size or the existing condition of the floor.
The following are some of the major factors that will determine how much it would cost to install the wood-stamped concrete in your home:
The floor size: Generally, the cost per square foot reduces as the floor area increases. For example, you are more likely to spend more on a small residential floor than on a large commercial space. This is basically because of the bulk discount that you are going to get on the larger square foot. You should expect to spend more on surface areas with curves and angels.
Obstructions: The presence of obstacles such as stairs, doorways, cabinets, etc., can increase the amount of work to be done, thereby increasing labor costs, and sometimes, the material cost.
Materials and colors: if you're using multiple colors, the contractor will have to take time to blend colors and apply them separately. This definitely increases the labor costs. Of course, you will need to factor in the cost of the stain or dye, and other necessary materials.
The complexity of the project: A complex design will require more in terms of materials and labor. If the design involves customized elements such as stenciled designs, decorative saw cuts, metal dividers, embedded objects, etc., then you can expect the total cost to be much higher than a regular design.
The best way to have accurate figures of how much it would cost to install wood-stamped concrete in your home is to engage the service of a professional stamped concrete contractor.
The contractor should visit your property to check your space and work with you on whatever design you have in mind. You will also be helped to make informed decisions on the options available to you.
However, if you are more interested in exact figures of the cost of wood-stamped concrete, here is the answer: you can expect to spend as low as $8 per square foot for a basic design. For mid-range designs for your patio or driveway, you may be spending from $12 to $18 per square foot. When you think about this, you'd see that this is about the same range as most wooden decks.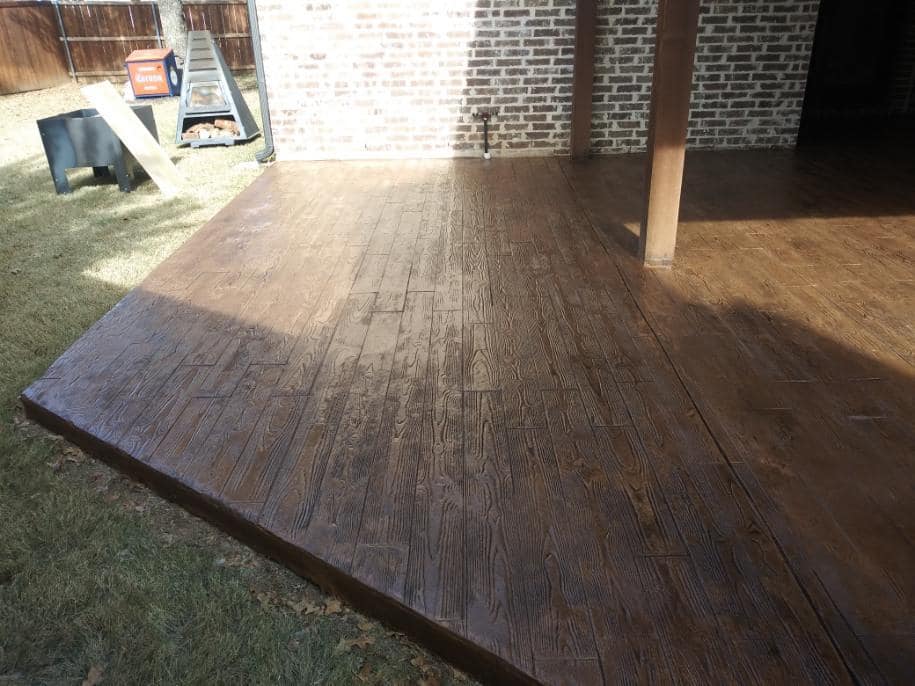 Conclusion
Wood stamped concrete is a great way to beautify and transform your property. In addition to mimicking wood planks, it offers you a wide range of designs, colors, and patterns, and also gives you the same durability as regular concrete.
Considering that there are many factors that will determine how much it would cost to install it in your home, it is best to contact reputable contractors for estimates.