I usually ask clients to bring photos of cakes they like to the consultation. Often, at first glance, they seem to have nothing in common, and it's my job to help the client gain focus. I love the challenge of finding the common elements that tie all the cakes together. Radhika, a bride I recently worked with, had a lot of ideas for her wedding cake and brought in a lot of photos (below) for inspiration. (I recognize several of them as Sweet and Saucy Shop, the now-defunct I Dream of Cake, and my designs, but unfortunately, I can't credit all of them.) See if you can find the common thread: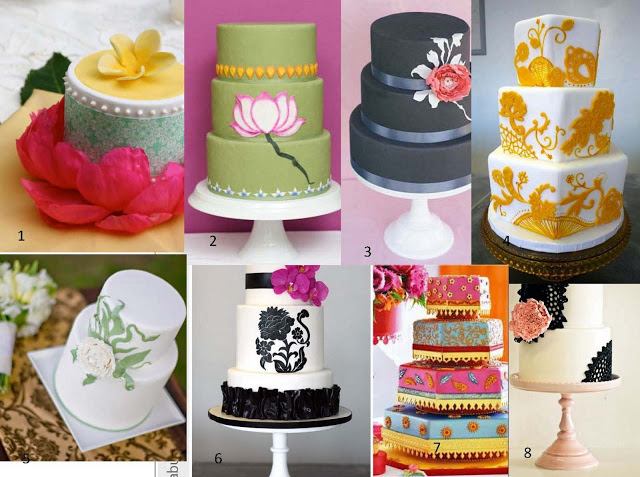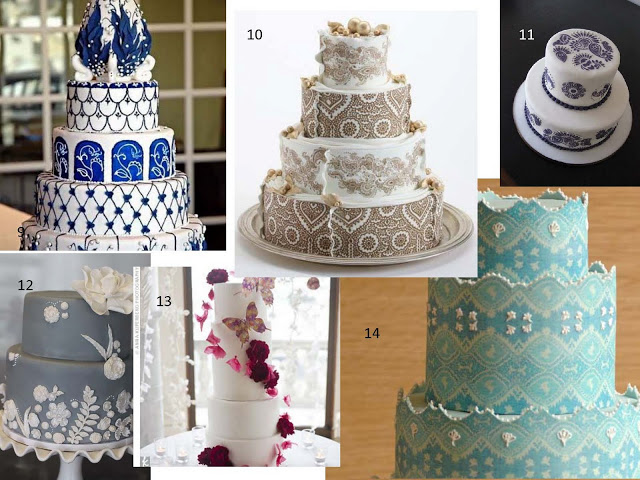 Essentialy, I determined that Radhika likes cakes that incorporate modern, cleaner interpretations of more traditional designs. Then she threw me when she sent these images for inspiration: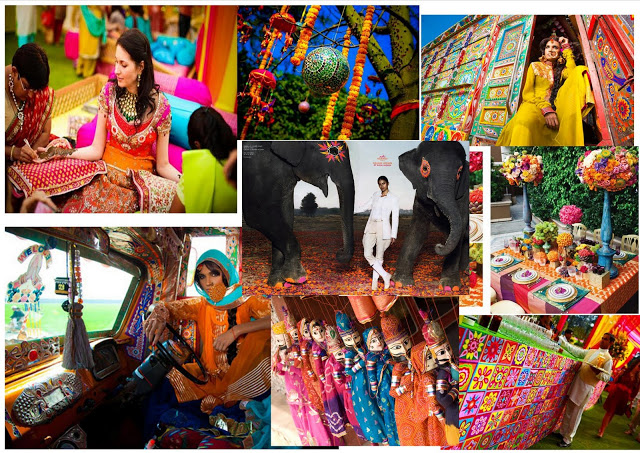 It helped that Radhika created her own sketch (seen here on the right) that included the clean, modern, graphic style I'm known for and the traditional Indian elements she wanted to use. The sketch was pretty, but it didn't quite work for me.
The detail on the bottom tier was too small to balance out the bigger, bolder designs on the top two tiers. I suggested that the designs on the three tiers go either small-big-small or big-small-big, and she opted for the former. In my first sketch, I tried to balance the design a little more and use Radhika's color scheme of turquoise, orange and fuchsia.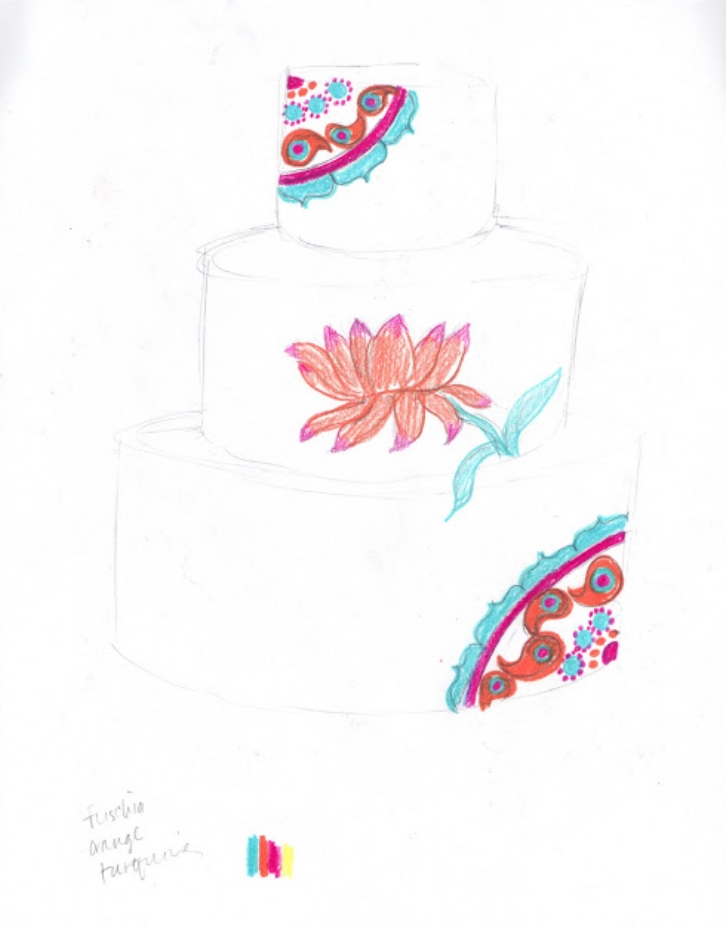 Something about the colors wasn't quite working, so I turned to the online color palette generator that I love. From there I determined that Radhika should really replace the orange in her primary color scheme with yellow, and include the orange as a secondary accent color. A few screen shots from the site are seen to the right and below.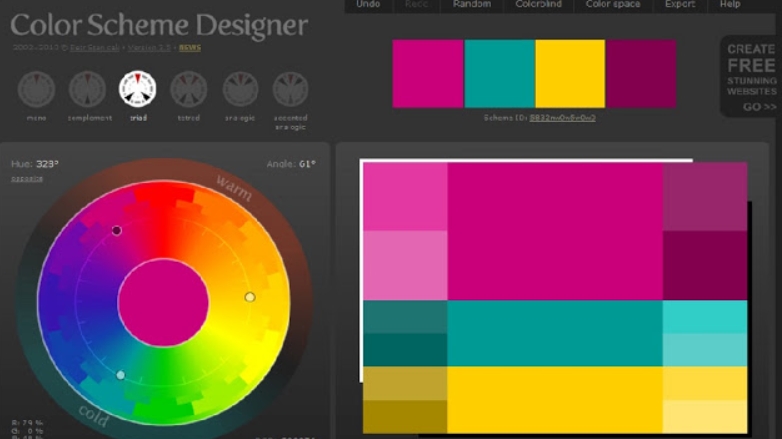 Once we finalized the color palette, we talked about changing the cake to four tiers. She really wanted a 3-D sugar paste flower, but it just wouldn't work within the original three-tier design. She decided on a four-tier (thank you Sonia Sharma, Radhika's event planner), and when I created the sketch I knew I was on to something: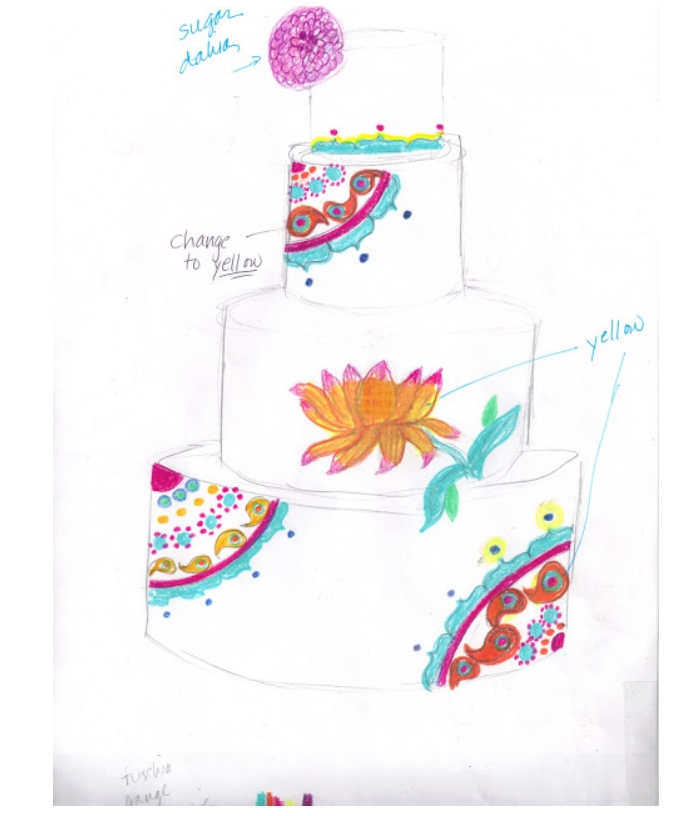 The wedding and reception were held on May 14th at Rancho del Diablo Dormindo in Malibu, California. Here are some photographs of the cake.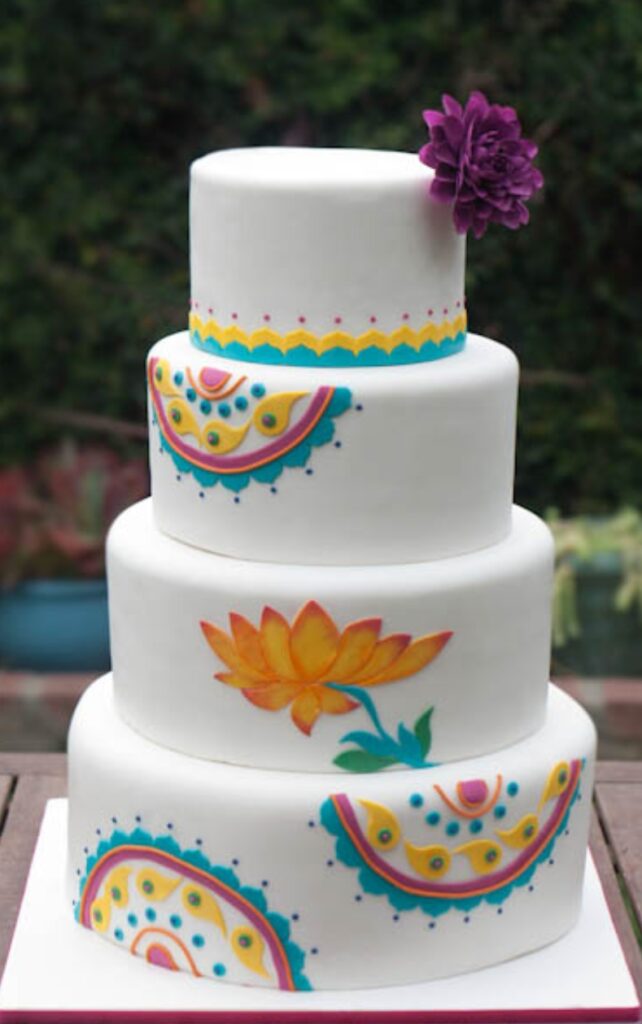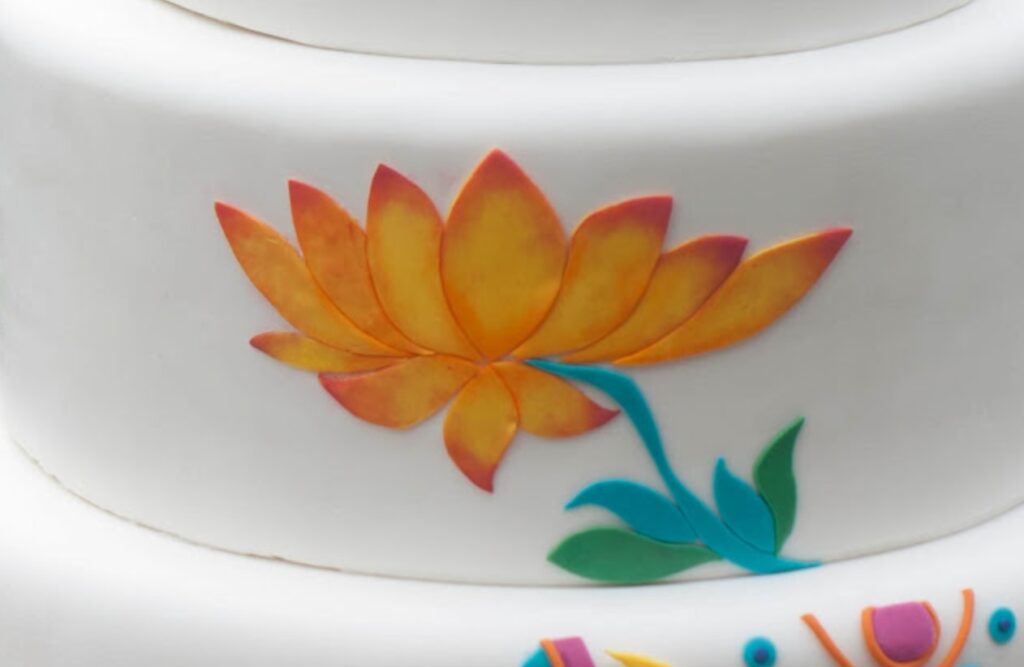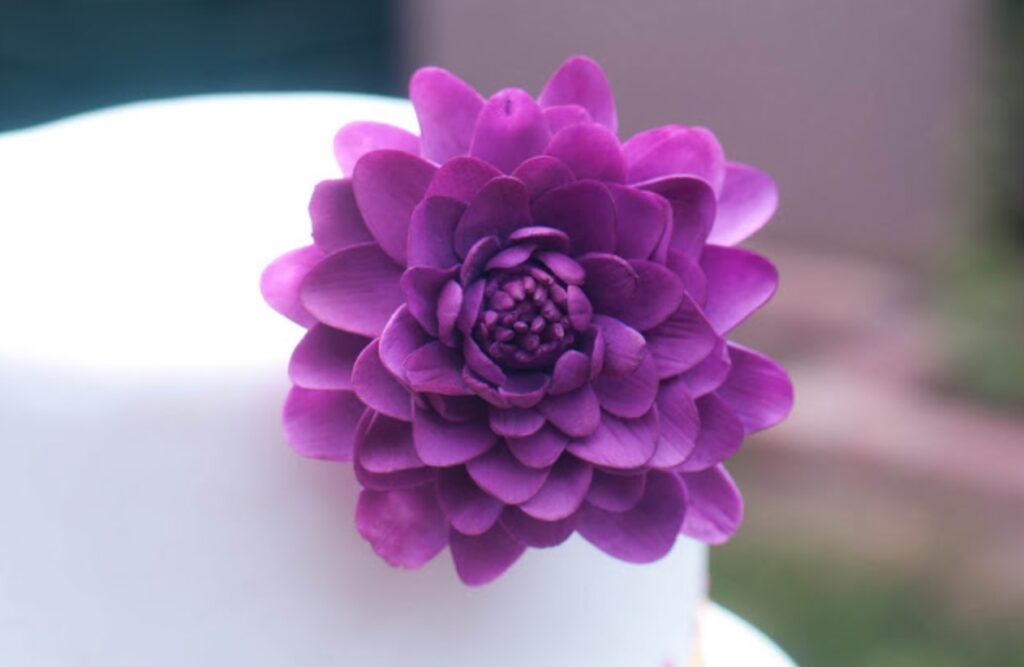 Comment on "A Modern Indian Wedding Cake"
Christen
Wow! Thanks for posting that process for us..I love how you took her wishes and balanced it out and made a stunning cake. Great job!
Shannon
It's beautiful! Thanks for sharing the process and I enjoyed being given the chance to decided on the shared element at the begining
Naomi
You are amazingly talented. Wow! This is stunning.
Lori
I agree with Kate, thank you for sharing your design process. The cake turned out lovely! And the dahlia looks so real.
Marcela
Such a beautiful cake!
Kate
Beautiful cake! And thank you for writing about the design process. I find it very fascinating to see how the cake evolves from start to finish.