It's always challenging to determine what size pans to use for a cake. Search the web and you'll find that cake serving guides vary significantly. Earlene's Cake Serving Chart shows that a 9″ cake serves only 22 guests, while Aztec Rental shows that it serves 32. I've always relied on an old Wilton chart. My print copy shows considerable wear and tear in the form of stray pen marks, grease stains, and random notes. See?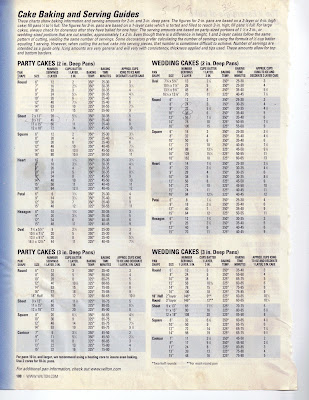 For whatever reason, it's really hard to find the Wilton chart online, so I'm sharing it here for easy reference. Keep in mind that the standard wedding cake slice is 1″ wide by 2″ deep by 4″ high, much smaller than a typical birthday or party cake slice. I tend to use the more generously-sized party cake chart (email me for a copy–I couldn't find it online) if the cake is for a party rather than a wedding. Oh, I should mention that I use only 2″ deep pans and don't recommend using 3″ deep pans because they take too long to bake resulting in a dry cake. Here's the chart.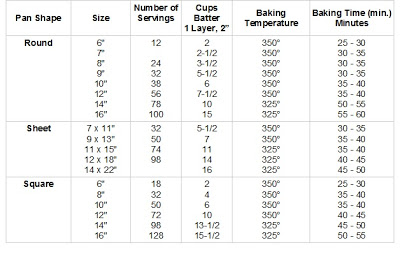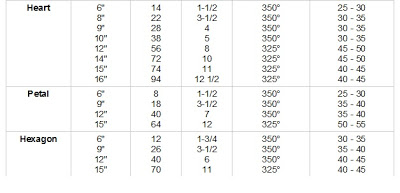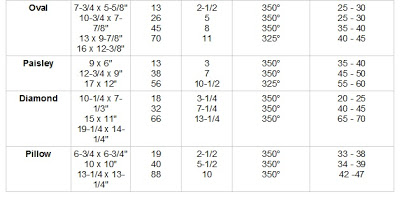 CORTNEY HUTCHINSON
Thanks sooo much for the info.!!! Could you please email me the chart?!:) I would REALLY Appreciate it! ! Thank you for your time and generosity! Cortney
Angie

Can you please email me the party size chart?

Thank you!

Erica OBrien

Hi Angie, Here's the link: http://www.wilton.com/cakes/making-cakes/baking-party-cake-2-inch-pans.cfm

Good luck!
SHERRY FOLLIOTT
Hi There! Would you be able to e-mail me a copy of your chart? It would be greatly apprecited! thanks!
JOYCE LARSON
I would love a copy of the party chart if you would send me a copy that would be great, thanks

Erica OBrien

Sure! Here's the link: http://www.wilton.com/cakes/making-cakes/baking-party-cake-2-inch-pans.cfm
ANONYMOUS
I AM A LITTLE CONFUSED?!? SO IF I NEED TO MAKE A CAKE THAT SERVES 100 PEOPLE I CAN DO SO IN A 2 LAYER 16″ ROUND??? OR WOULD THAT JUST BE THE BOTTOM TIER AND WOULD I NEED TO ADD MORE TIERS?? PLEASE HELP LOL
THE SKINNY ON GETTIN' SKINNY
how many servings is a 5″ and 4″ rounds? squares? i have searched high and low on line and cant find anything.
ANGELA
Your cakes are gorgeous! I always had such a hard time finding the Wilton chart and have it now saved under my bookmarks. It's, http://www.wilton.com/cakes/making-cakes/baking-wedding-cake-2-inch-pans.cfm.

faithy, the baker

Thanks for sharing! this is helpful! 😀