Below is the reference chart I use to determine the tier sizes for all of my wedding cakes. I have always used this guide and have never had an insufficient number of servings. I shared a rather poor copy of the cake slice chart here in September of 2010. I knew it had to be available somewhere online, but I just couldn't find it.
Thanks to Angela from Sugar Sweet Cakes and Treats for sharing the link to the chart, and thanks to Wilton for providing the information.
A few notes: The baking times are for conventional home ovens. (Commercial convection ovens bake faster.) A 7″ round serves approximately 18 guests, and an 11″ serves about 48.
I hope you find this chart useful–and easy to find!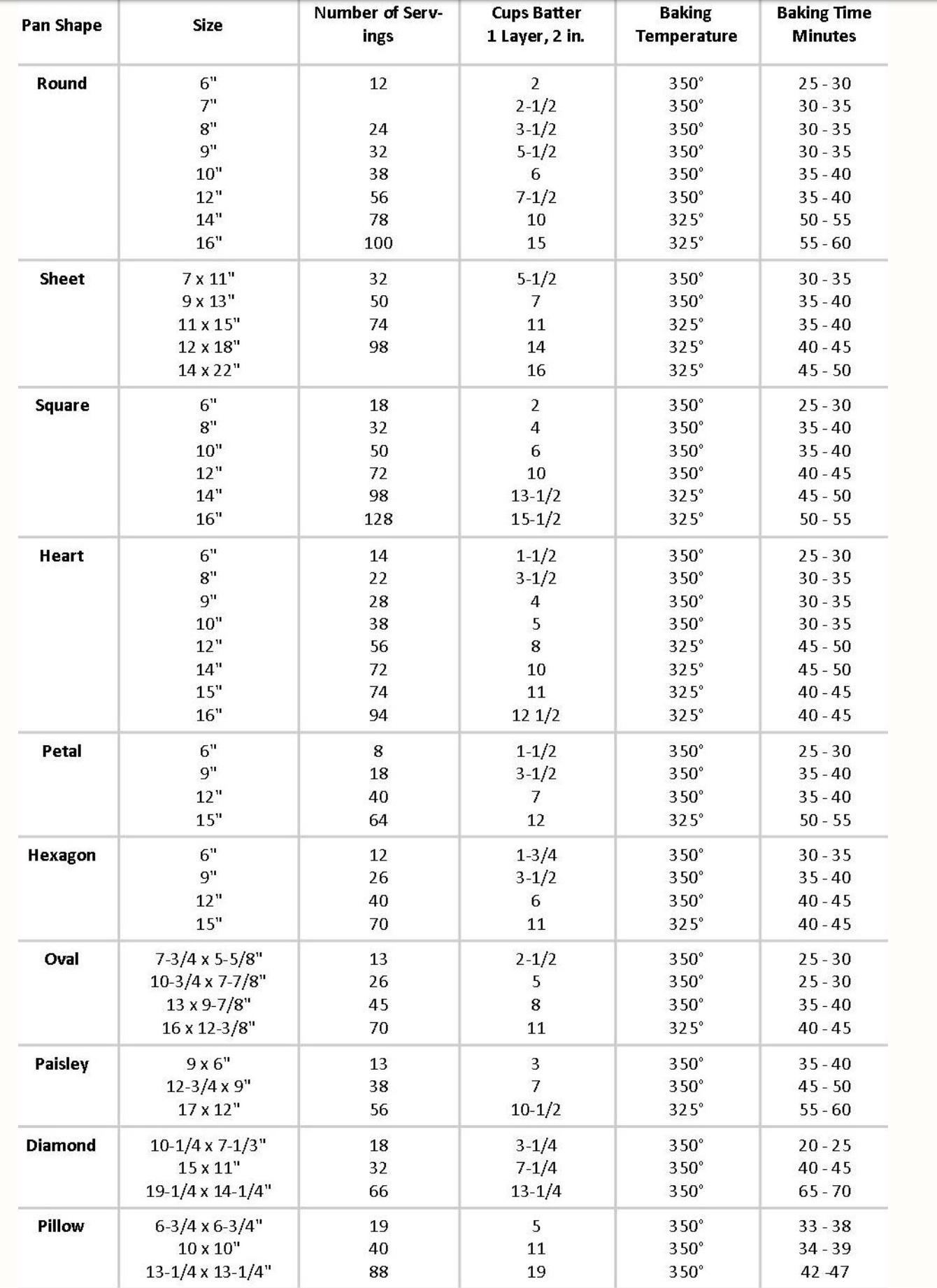 NKIRU
Hi Erin,i have 2 questions,i will be making my first wedding cake,4 tiered cake of size 8,10,12 and 14.my question is how do i mix my batter,do i measure out the ingredient for each cake pan and then mix together for the cakes pans?if not how to i do it?secondly,i have a request to make 10 pieces of a size 8 cake,do i multiply the recipe by 10?thank you

Erica OBrien

Hi,
You need to determine how much batter your recipe yields and then how many recipes you will need for each cake pan. Do you have a very large mixer? Most home mixers only accommodate two to three recipes at a time and you will need many more than that.
Not sure what you mean by your second question.
Thanks!
Erica (not Erin)
TIERED WEDDING CAKE SIZE | FANCY AND SUMPTUOUS WEDDING CAKES
Wedding Cake Slices: Serving Size Chart | Erica O'Brien … – Below is the reference chart I use to determine the tier sizes for all of my wedding cakes. I have always used this guide and have never had an insufficient

Holly Brackstone

Is it possible to cut a 14inch wide, 9inch tall wedding cake? How difficult could it be?

Erica OBrien

Hi Holly,
I guess it's possible, but it wouldn't even fit on a plate! Taller than standard cakes only appear taller. In reality, they are two cakes of the same size (in this case 14″) stacked directly on top of each other. So, it's basically two tiers in one that are then iced on the outside together, whether in fondant or buttercream. After filling and crumb coating your first 14″ cake (about 4″-5″ tall), dowel it and stack the next 14″ cake directly on top. Then ice the two together. Of course both cakes are on a cake board.

Hope that clarifies things!
GWENDOLYN WESTBERRY
I bake from scratch how do I determine how much batter I need for a 14 inch round 3 inch deep cake. I have a 5qt kitchen aid mixer. Help please.
Reply

Erica OBrien

Hi Gwendolyn, I have used this chart reliably for years: http://www.wilton.com/cakes/making-cakes/baking-serving-guide.cfm Of course you need to know how much batter your recipe yields to know how many times to increase your recipe by. I should mention that I never use 3″ high pans as I find them too deep so it takes the cake forever to bake, putting it at risk for drying out. I bake in two 2″ high pans and then cut each cake in half horizontally so I end up with four layers of cake.
DAWN
Hi Erica,
I don't know if you can help, I need to make a 2 tier wedding cake for a couple of month's time, it's for a relative, I'm an amateur! And want to buy good cake pans [here in Australia am a bit more limited but have seen Wilton 'professional' & Fat Daddios]. I was told a 10 inch & 8 inch together would suffice for 100 guests/servings but apparently not, do you think I could get away with 12 & 10 inch though? And if a pan is annodised, does that mean it'll need less time in the oven? Sorry for all the questions, am so confused! Thanks a lot.
Reply

Erica OBrien

I believe Australian cake servings are generally smaller than American slices since mud cake (the standard Australian wedding cake) is so rich and dense. I would consult an Australian serving chart. An 8″ on 10″ wouldn't serve 100 here, but it might work for Australian serving sizes.
ASHLEY
Hi Erica! Love love love your blog! How do servings work for a short tier? Like a 2″ tall cake. Is it the norm to still cut the cake 1×2 slices even though it is much shorter than the typical 4″ cake?
Reply

Erica OBrien

I usually recommend a faux tier for shorter cakes since they look so, well, short when plated.
NATALIE
Hi Erica,
I love your work. The wilton chart says that a 1/2 sheet will feed 98, but I calculate it as 108. Which do you go by?

Erica OBrien

I don't make too many sheet cakes, but I've found the Wilton chart to be a reliable sizing guide. In this case, however, according to my calculations, you are correct. (Area of pan divided by area of slice, so 12 x 18 = 216 divided by 1 x 2 = 2. So 216 / 2 = 108.) I guess I always prefer to have more cake than less though, so I personally would use their chart.
VICKI
Wilton's chart now has the serving size for a 16″ pan as 78 slices which differs from what you have. In fact all of the pan sizes have less slices. I have read several comments about truth in serving slices and I am extremely confused. I am making my daughters wedding cake and I don't want to run out of cake but I also don't want to take it home. What do you suggest? Our guest list is for 200

Erica OBrien

Hi Vicki,
I think you're looking at the Party Chart, which is different. Wedding cake slices are a lot smaller, since the cake is symbolic and is served after a large meal. Some areas of the country have larger serving sizes in general though, so you'll want to consider the location and cultural expectations of the party. I have relied on the Wilton chart exclusively for years and have never gone wrong. Standard wedding cake slices are 1″ wide by 2″ deep and 4″ high. You can measure the surface area of the cake based on slices this size. Measure the diameter and divide by 2 to get the radius. Now multiply the radius by itself (r-squared) and multiply by pi (3.14). Divide by 2 and you have the number of servings.
Example:
8″ cake pan.
Diameter = 8
Radius = 4
Square the radius = 4 x 4 = 16
Multiply by pi = 3.14 x 16 = 50.24
Divide by 2 = 50.24/2 = 25.12 slices. I would round down to 25.

Good luck!
KATIE
Thanks for this; Just wish I could pin it for easy finding in the future!
Reply

Erica OBrien

Thanks Katie. I'll be posting a new chart with all the sizes soon for easy pinning.
TANYA
Thank you for posting this! I'm just starting out at decorating, and have been asked to do a wedding cake-this chart is extremely helpful. Especially good to know is that wedding cake slices are smaller, so I don't have to worry about making a HUGE cake for 150 people! I noticed that the "link to the chart" on the Wilton page also includes the amount of icing needed for each size cake-very helpful information!
Hi,I've just found your cake severing size and would like to know if the cake where between 6-8 inches in hight, how would you slice the cake?

Erica OBrien

As a rule, you should never layer cakes higher than 4″. After 4″, you'll want to support the additional cake (I use dowels) and a board. A cake tier that is 8″ tall should actually be two 4″ tall cakes the same in diameter stacked on top of each other. For a 6″ tall cake, I would either do two 3″ tall cakes or a 4″ real tier and 2″ faux. Hope that helps!
DEBBIE BRUELL
Your chart states that a 10″ round cake provides 38 servings. Does that mean a 2-layer 10″ round cake will provide 38 servings? Or are you assuming a different number of layers? Thanks!

Erica OBrien

Hi Debbie,
Excellent question. I actually bake two 2″ high pans, and then torte them, so I'm left with four layers of cake (and three layers of filling). Wedding cake slice sizes, however, are actually based on the final height of the cake, rather than the number of layers. This chart is based on cake slices that are about 1″ wide, 2″ deep, and 4″ high. (The standard height for a wedding cake is 4″.)
Hope that helps!
Erica
HOLLY
Hi Erica,

Would you say your serving sizes on your chart would be for desert size or sample size??

Thanks
Holly

Erica OBrien

Hi Holly,
They are considered "wedding cake" serving size. Since wedding cakes are traditionally served after a big meal, it is supposed to be more symbolic than anything, so the portions are smaller than a birthday cake slice might be. Each slice of wedding cake is approximately 1″ wide by 2″ deep by 4″ high. Hope that helps!
CARLA REICH
Hi Erica,
Thanks for sharing this. Do you ever recommend to the couple that they order a few extra servings, in case some guests want more cake? Or do you simply calculate the sizes of your cake tiers based on the guest count they give you during the consultation?

Needless to say, I am a follower of your blog and LOVE your work.

Erica OBrien

Thanks so much! I use the guest count to determine the number of slices. I also discourage them from saving the top tier for their first anniversary, since after a year in the freezer it tastes like, well, a cake that's spent a year in the freezer. Instead, I encourage them to splurge on something special on their honeymoon, like a nice bottle of wine, and save it for their first anniversary.